Chasing Butterflies In The Sunlight
Ronke and her riveting journeys...
She wanted a brother badly,
but when he came...
Read about Ronke's experiences!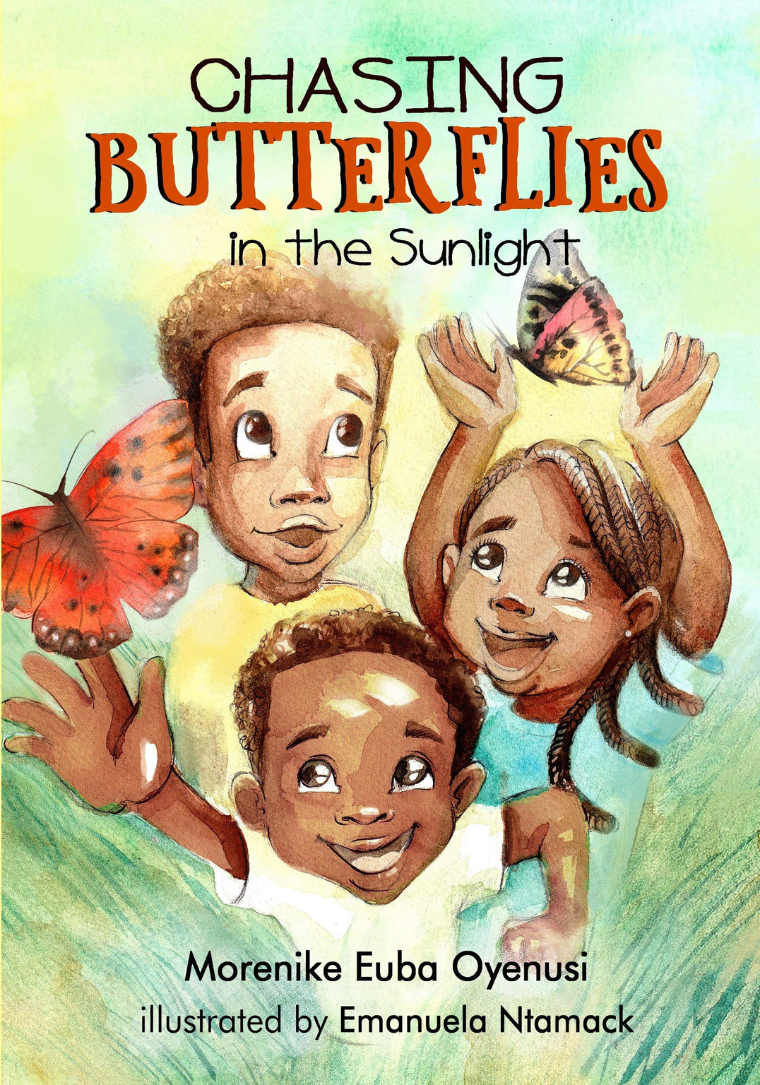 Learn about the food, culture, history, and geography of Nigeria and other lands.
Travel through the pages adventurously with Ronke Wakanyi Hoffman, A Global Nomad's Home blog
@username
"…Chasing Butterflies in the Sunlight is creating a new shelf of classic tales that are contemporary and positively African. It is a tale that reveals glimpses of an African global nomad's childhood, which makes this particular book a trailblazer, shattering long-held tragic images about an average African lifestyle". "Reviewed By Rolanda Lyles for Readers' Favorite
Ronke is an energetic and vibrant young girl with a healthy curiosity and a tendency to get into trouble. She likes to play dress-up, school, pretend cooking, and many more. She also doesn't always like to be stuck hanging with her little brother, Bobo, and sometimes gets him into trouble. This brother and sister find themselves having loads of fun and, many times, lots of trouble. From playing school and dress-up to crashing parties, this pair will surely keep you entertained. Join Ronke and her brother, Bobo, on their next adventure in Morenike Euba Oyenusi's Chasing Butterflies in the Sunlight. Morenike Euba Oyenusi's Chasing Butterflies in the Sunlight is a collection of short stories about a brother and sister playing together and exploring. Each chapter serves as a mini-episode portraying the escapades of Ronke and Bobo instead of being read as a continuous story. The episodes show the duo being naughty, curious, and exploring while playing make-believe with each other. Oyenusi's writing is vividly descriptive and portrays the children's play in a way that I could visualize them. The illustrations included throughout the story were beautiful and helped to vividly portray the kids during their playtime together. I enjoyed that Oyenusi's writing depicted how children are naturally curious and don't always do as they are told. They can be naughty, but we still love them. As adults, sometimes we forget what it was like to be a kid, curious and wanting to explore and try things. I really enjoyed reading Oyenusi's story." You can learn more about Morenike Euba Oyenusi and "Chasing Butterflies in the Sunlight" at https://readersfavorite.com/book-review/chasing-butterflies-in-the-sunlight where you can read reviews and the author's biography, as well as connect with the author directly or through their website and social media pages. Readers' Favorite LLC Media Relations Louisville, KY 40202 800-RF-REVIEW support@readersfavorite.com https://readersfavorite.com Cynthia Tse Kimberlin Executive Director at MUSIC RESEARCH INSTITUTE
Thank you for writing this insightful and delightful book! It brought back so many memories of the two years I lived and taught at the university of Ife, My daughter attended the university staff school for the children of the faculty. I recall the walks around the campus, the zoo, Leventis, the staff club chalets, the swimming pool and the food. I miss the poundo yam and okra soup, the plays and the musicals taught by Wole Soyinka and Femi Euba, the plays in town presented by Ola Rotimi. Of course I miss Prof. Akin Euba who invited me to teach in the newly formed music department which he instigated. It was at Ife where I was introduced to the drumming performed by Muraina Oyelami and work as a visual artist. I hope your book will be widely read. S. Aziz
Chasing Butterflies in the Sunlight is a wonderfully written and important piece of fiction. Set at a university campus in Nigeria, it tells the everyday adventures of an elder sister, Ronke and her younger brother, Bobo. Our two young protagonists get up to much mischief as we see the world through their little eyes. The book will be enjoyed by both adults and children (especially when read together). I read a chapter from the book every night to my five year old, who listened with eager anticipation to each installment of Ronke and Bobo's escapades. Traditionally, there has been a dearth of children's literature that tell the stories of young people from black, ethnic minority and 'other' communities, which is only recently being addressed. Within this context, Ms Oyenusi's work adds to that growing cannon and what the Turkish writer, Elif Shafak, calls 'the revolutionary power of diverse thought'. In her own small and significant way, by telling stories about the land she came from, Ms Oyenusi is also telling us stories of what it means to be human. Well done. We look forward to your next piece of work. PACL
This book is a treasure, especially to a mother of a Nigerian-American boy. The author writes bedtime stories based on her life and stories growing up in Nigeria, and she sprinkles in bits of culture and language throughout. The illustrations are also beautiful, almost dream-like. Perfectly serene for a nighttime read. I call this a treasure because even though my husband grew up in Nigeria, he doesn't speak much about it. It's not easy for everyone to capture stories like this. I am so grateful to share this with my son and our classroom. Thank you, Morenike, for helping build Parenting Across Color Lines "Little Diverse Library" and for sending us a special hardcopy. As a parent and teacher of multicultural students, it's SO great to see a book featuring and written by a BIPOC author.
Morenike's second book...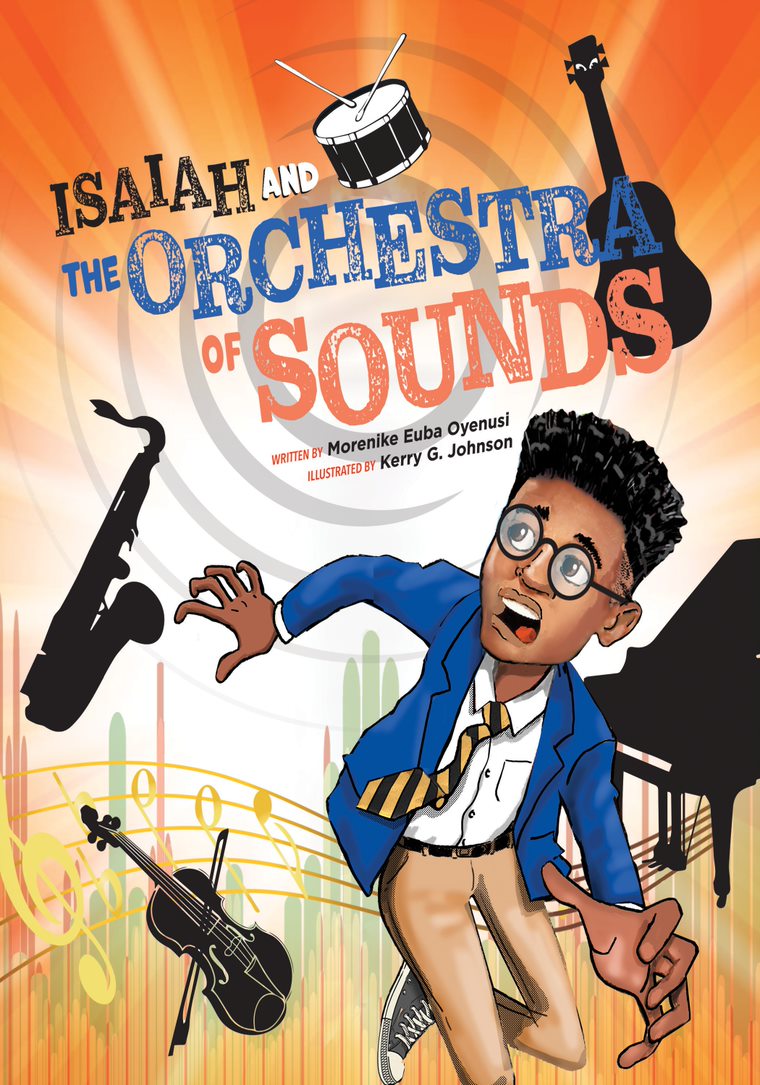 Isaiah And The Orchestra Of Sounds
A multiple award winning book.
Isaiah (14 and a bit) is living the perfect and peaceful life in Baltimore, Maryland, when, suddenly, he acquires an alien resident orchestra in his right ear!

Our endearing hero has a doting mom whom he adores. He is best friends with Sammy and Rosa at a rigorous college prep school. He's a deep thinker, gets fantastic grades and loves video games. The lively story of Isaiah's battle with the unwelcome performers will keep you on the edge of your seat until the grande finale.